AN fittings and hoses are becoming an increasingly popular solution for plumbing race cars and other high-performance vehicles. But with so many options on the market, which ones are right for your application?
The increased use of alternative racing fuels in recent years, coupled with the already wide variety of existing automotive fluids, has certainly complicated the selection of AN hoses and fittings. Not only should the hose and fittings be compatible with the specific fuel, lubricant, or coolant that they carry, but they also must be capable of withstanding the temperatures and pressures associated with the particular system. Lastly and no less important, they must be able to meet the given system's volume demands and be properly assembled and routed.
The term "AN" was initially derived from "Army-Navy" as the two military branches collaborated to develop specifications for hoses and fittings for use on aircraft during World War II. All AN fittings include a 37° flare and are engineered to be mated with 37° flared tubing to provide effective sealing. It's important to note that they shouldn't be confused or interchanged with industrial-use, "JIC" (Joint Industry Conference) fittings, which also utilize a 37° flare, but feature distinct differences in thread design and construction.
Following the end of the war, many veterans became active participants in the growing hot rod movement and due to their familiarity with the mil-spec hoses and fittings, began using them on their hot rods and race cars as well. Their renowned durability drove their popularity as many racers switched from using traditional black rubber hose and worm-drive clamps to AN fittings and hoses.
The wide variety of fuels, lubricants and coolants throughout the years led to the development of several different types of AN fluid transfer hose. Although the first fluid transfer hoses were constructed from natural rubber, World War II led to the development of CPE synthetic rubber hoses (Chlorinated Polyethylene), because the Axis powers (Japan, Germany, and Italy) retained control of much of the world's natural rubber supply.
CPE hose was engineered to be compatible with a variety of petroleum-based or synthetic lubricants, hydrocarbon fuels, and coolants, and was designed for use with fittings that could be installed using common hand tools. Still prevalent today, the hose is marketed under a variety of trademarked names including Aeroquip's "AQP" and XRP's "CPE Race Hose".
Developed in the 1950's to handle the high pressures of hydraulic systems that were subject to as much as 3,000 PSI, PTFE (Polytetrafluorethylene) synthetic fluoropolymer is the hose of choice for brake, power steering, automatic transmission, and nitrous systems. It has also proven effective for use with alcohol or E85 fuels as well. When used with natural or synthetic rubber hose, E85 causes permeation, a condition where the fuel penetrates the hose, breaking it down and introducing contaminants into the fuel system, potentially impacting the carburetor or fuel injectors.
The fuels can also be corrosive to some types of fittings, as well, and for this reason, manufacturers have responded with AN fittings specifically for use with E85, such as Earl's "Ano-Tuff" and Fragola Fuel Systems "Real Street" lines.
Hose sizing should be based purely upon the pump manufacturer's recommendations, clearly spelled out in the product instructions. Aeromotive Fuel Systems, for example, recommends that when using their A1000 fuel pump that a -10AN fuel line be run from the fuel cell to the fuel filter and pump.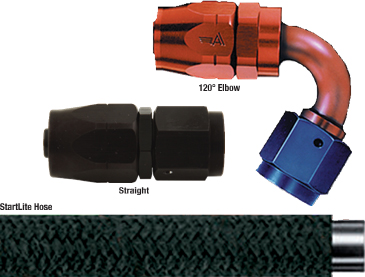 Following the manufacturer's guidelines ensures that the line is of sufficient size to provide the necessary volume of fuel and meet the demands of the fuel pump. Hoses should additionally be routed to optimize the transfer of liquid for maximum flow, limiting bends in hoses and hose ends as much as possible, particularly bends of 90° or greater.
If the car in question is a race car and weight is of concern, special lightweight AN hoses and fittings, such as Aeroquip's "Startlite" line, can be used to reduce weight by up to 30 lbs. This is particularly true on applications equipped with a multi-stage, dry sump oiling system that requires a significant amount of plumbing. The only compromise is the fact that since the hose lacks the outer stainless steel braid, it is more susceptible to abrasion.
Regardless of choice, it's equally important that the hose is compatible with the desired fittings. Enthusiasts can choose from cutter, compression, and push-on style fittings, offered by manufacturers including Aeroquip, Earl's, Fragola, Russell, Triple X, and XRP.
Selecting the right AN hoses and fittings is yet another avenue in car building that requires a bit of homework prior to purchase to ensure that they are not only complementary to other system components, but are also truly compatible with the fluids that they must carry. Each manufacturer clearly spells out hose and fitting specifications and compatibility, assembly procedures, and a wide variety of technical data in both their print and digital catalogs.